Sports Home Page
Please follow the separate menu headings (under Learning/Sports) for more news on the sports you are interested in.
Click here for Sports Premium Grant information.
Click here for information regarding Bikeability and Cyclewise.
Click here for the latest Sports Newsletter.
LATEST NEWS, EVENTS & SPORTING ACHIEVEMENTS
14th May 2017
Well done to Charlie and Ella, pictured below taking part in the Falmouth Race for Life event. They raised a good amount for Cancer Research and both had good runs. Ella completed 3 miles for only the second time and did really well, while Charlie came in the winner of his race, finishing in under 24 minutes.
Two teams from Year 6 competed in a High 5 competition at Helston Community College on Monday 23rd January. Both teams played exceptionally well and one of our teams came second overall.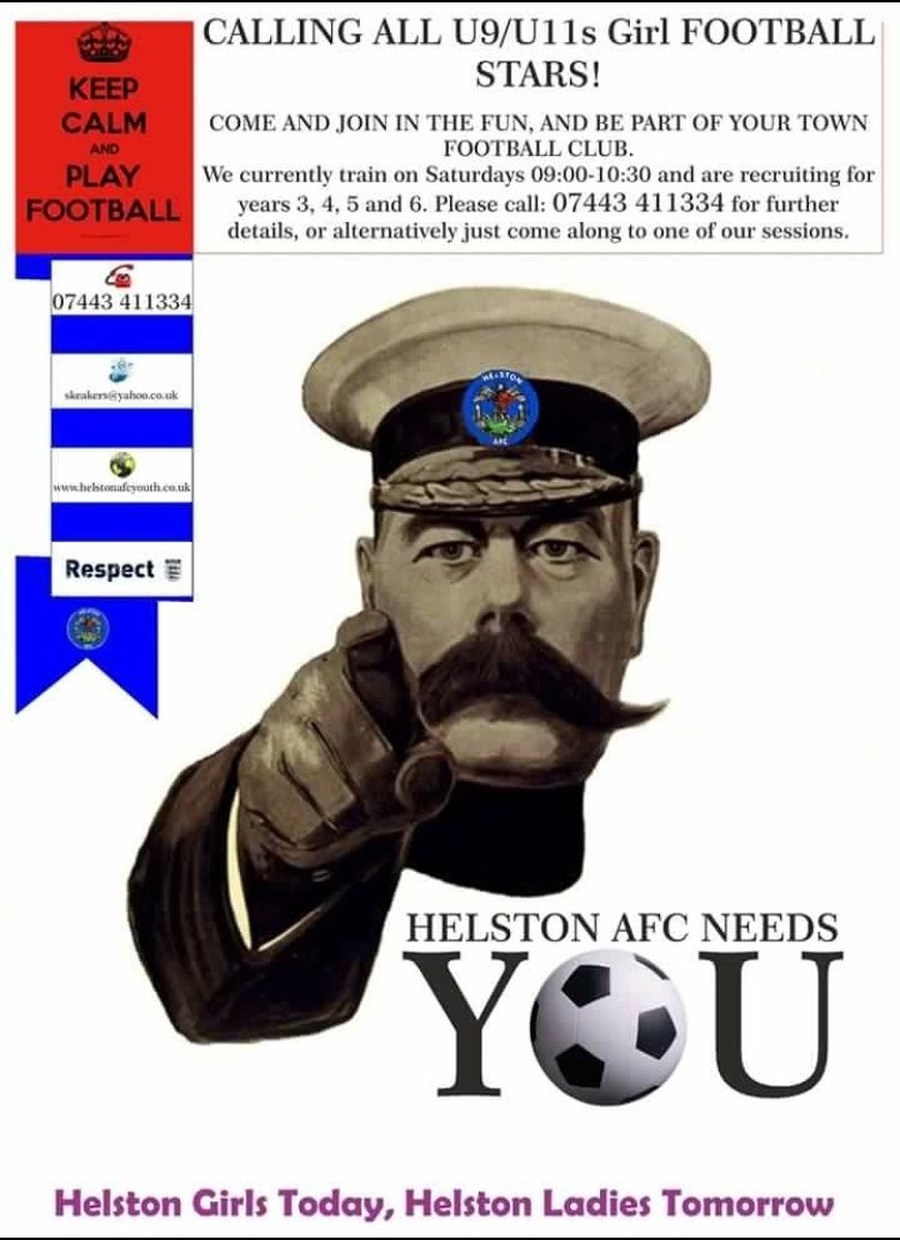 20th September 2016
Years 2 and 4 enjoyed Dance Workshops let by a dance teacher. The Year 2 workshops were based on The Great Fire of London and the Year 4 workshops were based on the Ancient Greeks.
17th September 2016
Well done to Emily (pictured below) who is in the Stars class. She did her first Penrose Park Run on Saturday!
The Penrose Park Run takes place every Saturday morning. Several of our children run regularly and we have many other pupils interested. This is for children and adults, all ages and abilities. The link to the website is - http://www.parkrun.org.uk/penrose/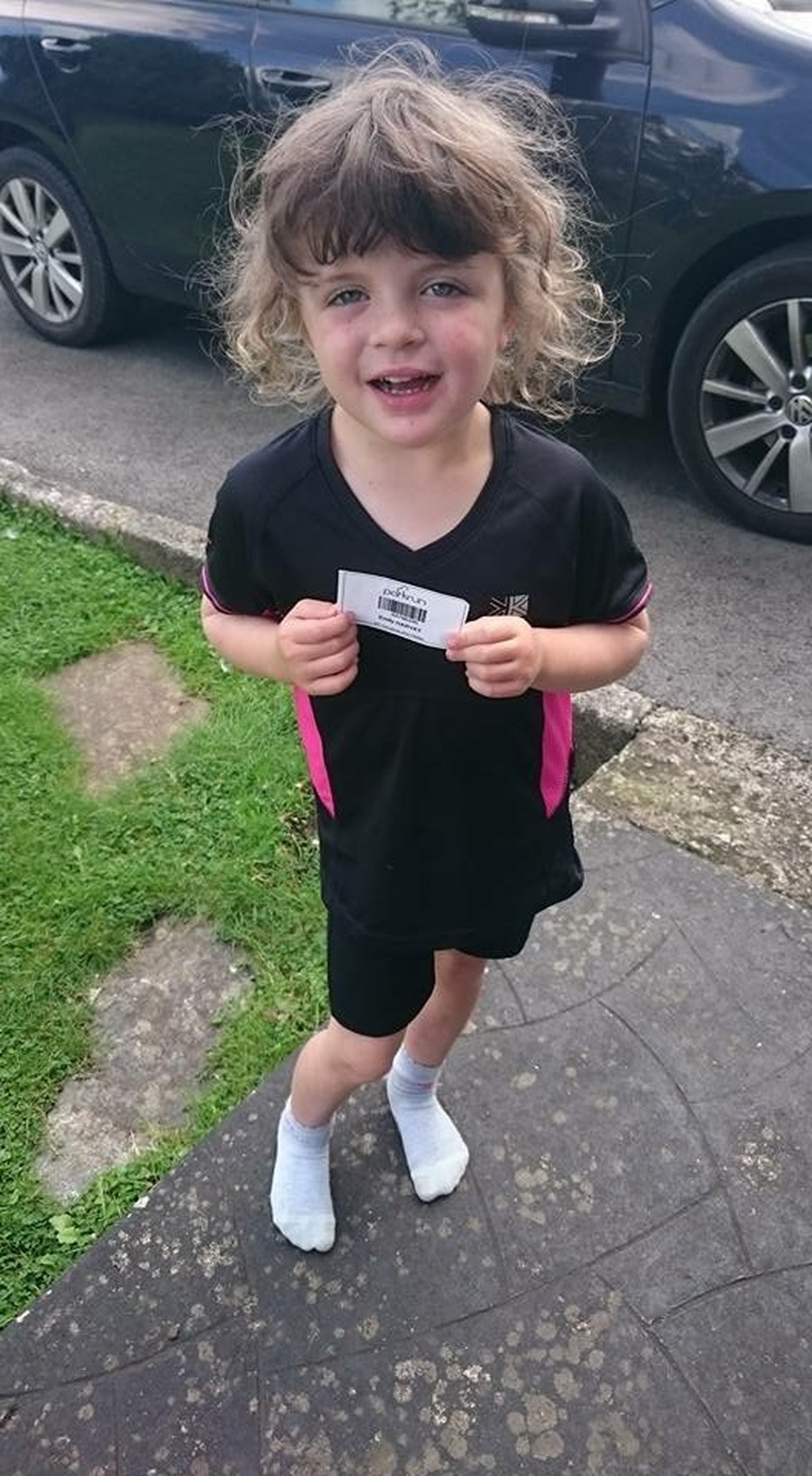 21st June - Black Belt workshops
14th May - Race for Life
Well done to Charlie who did the Race for Life in Falmouth on Sunday. Charlie has already raised £250 for charity.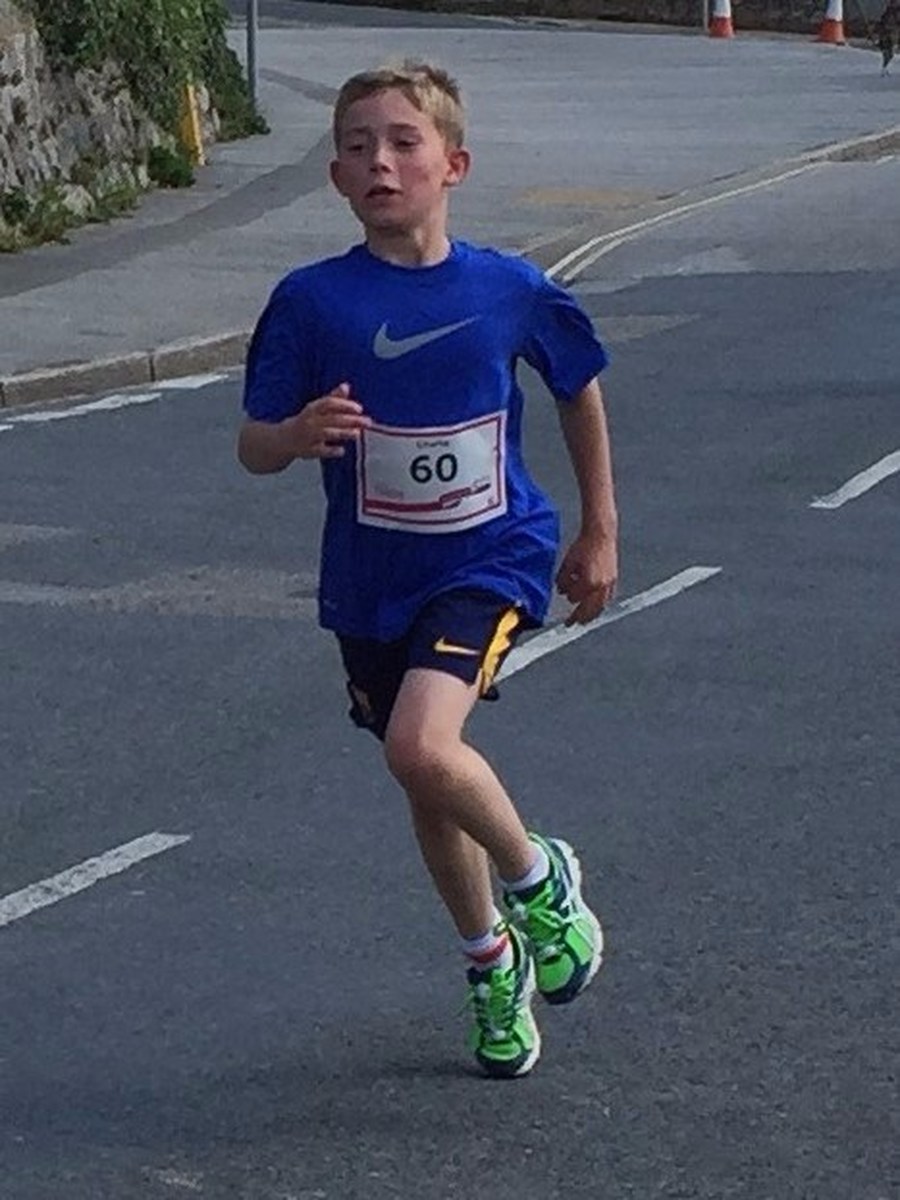 Charlie entered the Bodmin Tri at the weekend and is racing this year in 9/10's (although he has only just turned 9). He came 45th out of approx. 400 entrants overall. He entered under Parc Eglos as he doesn't belong to a club. An excellent achievement - well done Charlie!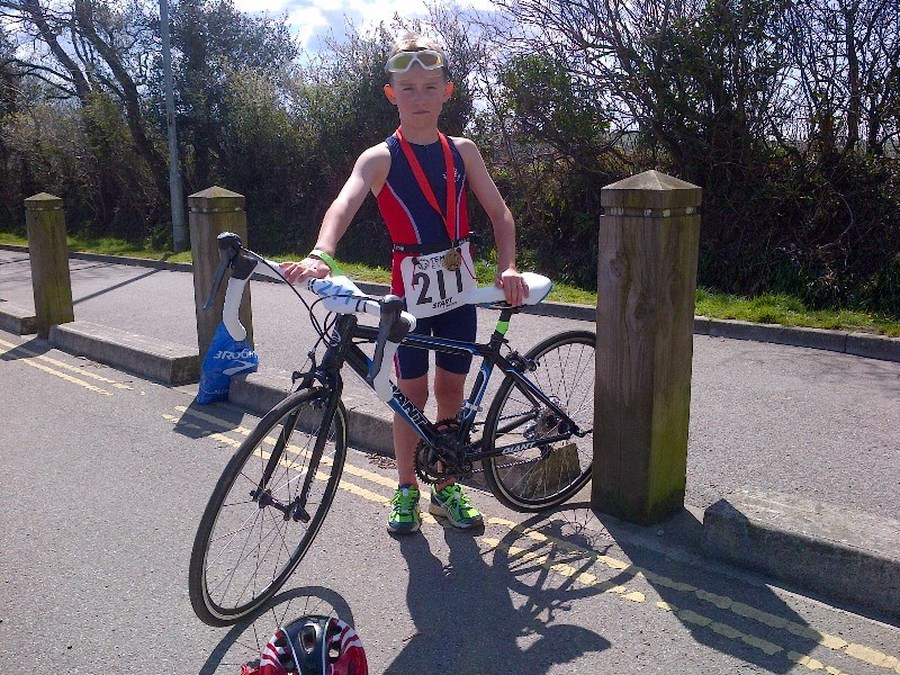 Congratulations to Kaya who headed across the border to Devon the weekend of 19th/20th March to compete in the Devon Open Judo Championships. Kaya came bronze in his category, a fantastic achievement.
January 2016
Our non-club gymnasts from Year 4 and Year 6 qualified for the next round of the Cornwall School Games competition. They competed against other Cornish Schools at Penryn Gymnasium. Well done to Callum, Poppy, Imogen and Leah.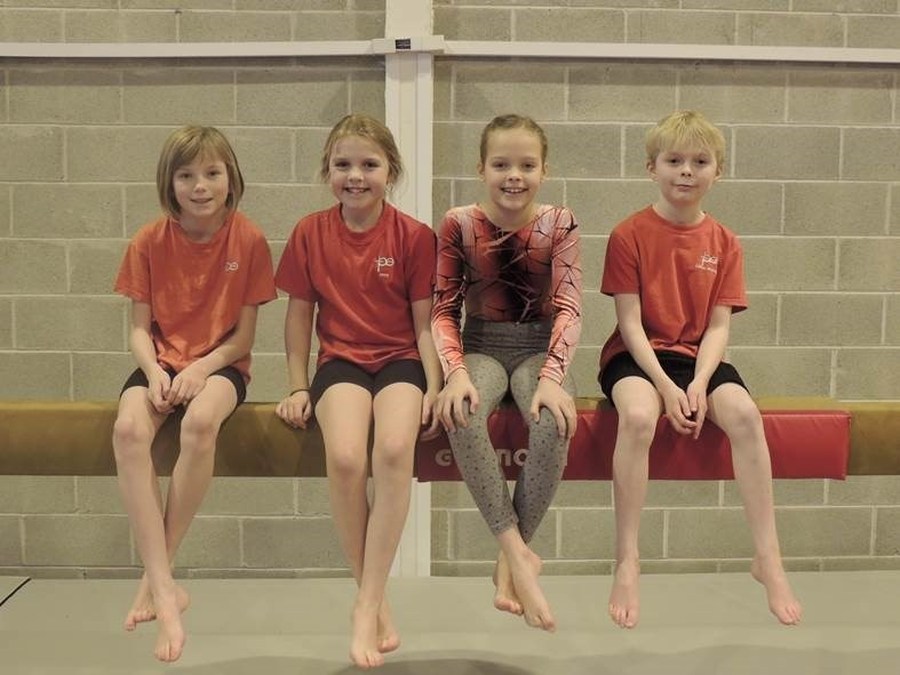 22nd October 2015
The year 5/6 girls football team wearing our new kit! The girls attended a football tournament at St Michael's School.
18th October 2015
Kaya attended the BJC Cornish Judo Championships. Having recently entered a new age category, he was up against stiff competition. Kaya however earned himself a bronze medal winning 2 out of 3 of his fights. Ranking him 3rd in the junior under 40kg category in Cornwall.
12th October 2015
Congratulations to these year 2 children, Emly, Poppy, Freddy and Jacob. They attended a gym competition at Mullion Gym on Monday and came second! Well done to you all.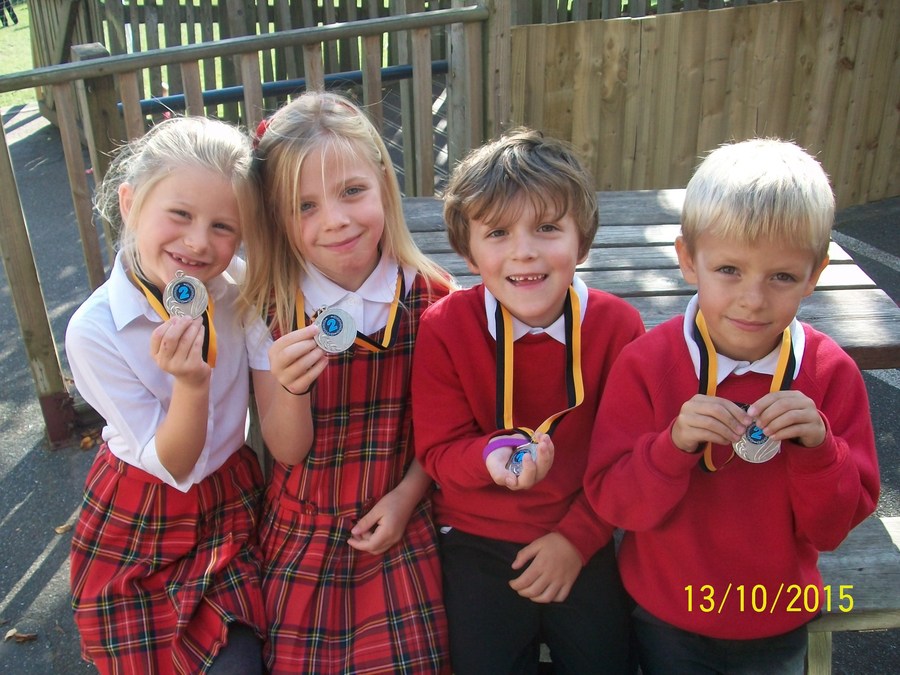 15th September 2015
Congratulation to Charlie who has won the overall award at the Liverpool International Football Academy for playing "The Liverpool Way'. Click here to read more about his fantastic achievement.
9th July 2015 - Sports Day
8th July 2015
Congratulations to our girls cricket team who finished in silver medal place in the Cornwall Championships this week. 74 teams entered the competition, the winning team being St Stephens.
18th June 2015 - Our official MUGA opening ceremony. The girls that cut the ribbon were so proud!
To kick off things in style, one of our first events will be a Parc Eglos 50th Anniversary Football Tournament on Tuesday 30th June for Years 3 and 4. We will be inviting all Southerly Point Co-operative Trust schools to take part. The final is expected to take place on the MUGA pitch at around 4pm that afternoon.
SAINSBURY AWARD - Received June 2015 - See our Awards page for more details.
2014-2015 SPORTING ACHIEVEMENTS:
17th June 2015
Kaya has again enjoyed sporting success - he had The Cornish Team Championships Judo Competition last weekend. Kaya came away with the Bronze individual medal.
16th June 2015
Congratulations to our football team who came third in the Cornwall School Games today.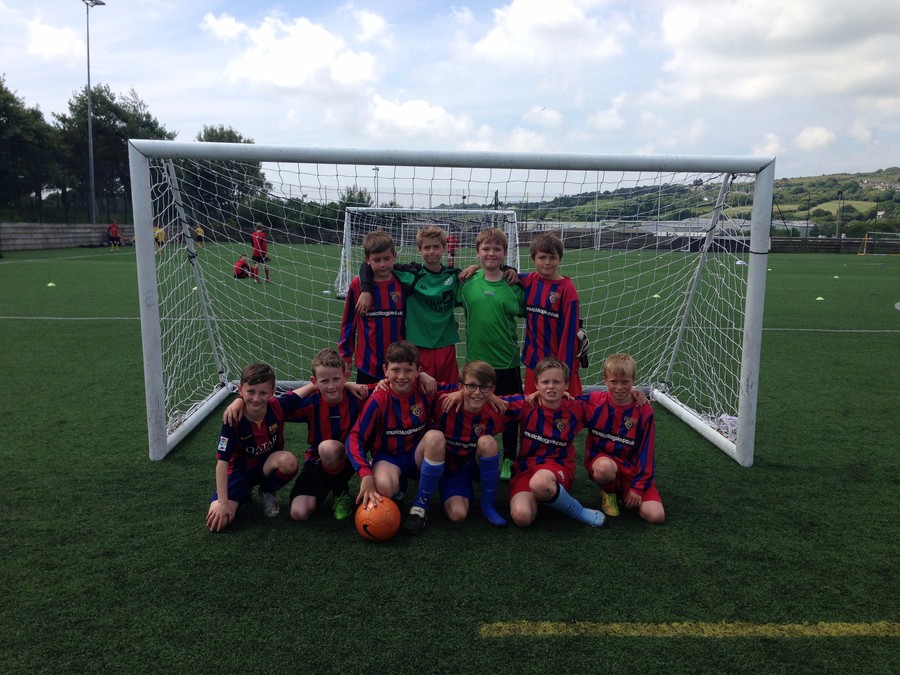 15th June 2015
On Monday 15th June, the Helston Primary Schools took part in a Mini Red Tennis tournament at HCC. Five teams took part in a round robin tournament. Parc Eglos came in first place with 111 points. Germoe A team came in second place with 98 points. All of the children really improved their tennis skills as the afternoon progressed, showing great serving, forehand and backhand strokes. Well done to the year 4 team from Parc Eglos. Click here to read a special report on the event by Sophie Lander.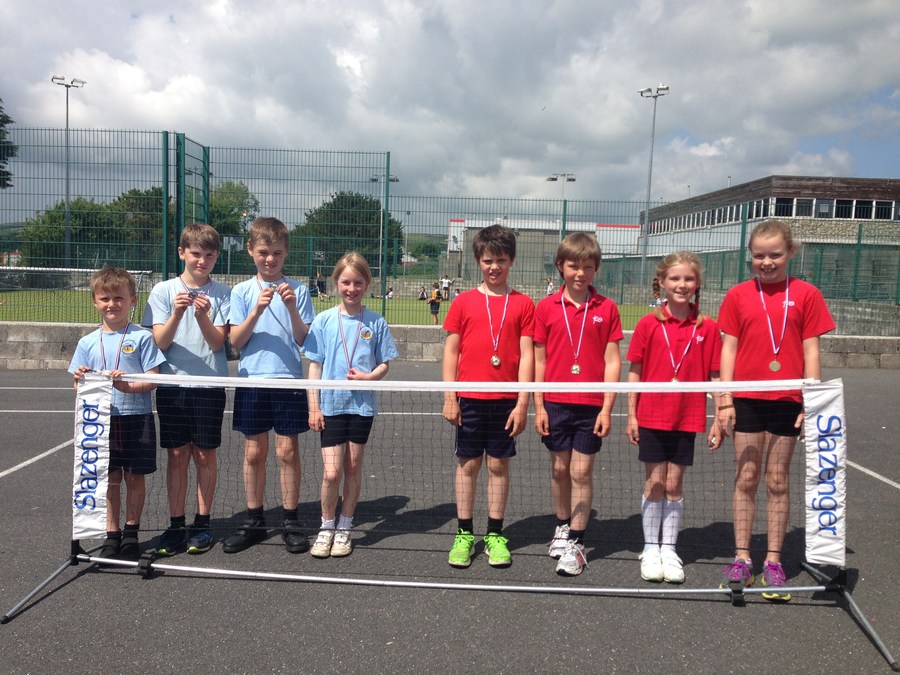 6th June 2015
Well done to Charlie who took part in the Helston Triathlon. He came 5th overall (out of 265) and 4th in class.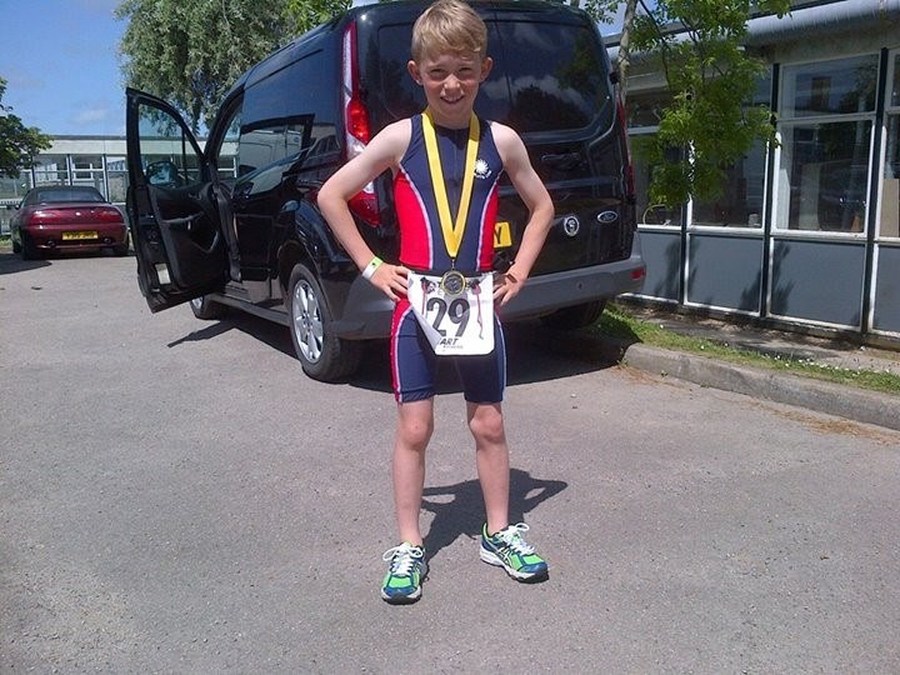 9th May 2015
Congratulations to Kaya who achieved 6th in the country (in his weight category) at the National Judo Championships in Kettering on 9th May. Well done Kaya.
17th March 2015
Well done to the pupils in years 3 & 4 who came 5th today in the Sports Hall Athletics. Photographs below.
11th March 2015
Well done to our Year 6 High 5 team who took part in the second round of the Cornwall School Games. Out of 73 Schools that have High 5 teams, our children came 8th overall. The team are pictured below and a full report from them is to follow.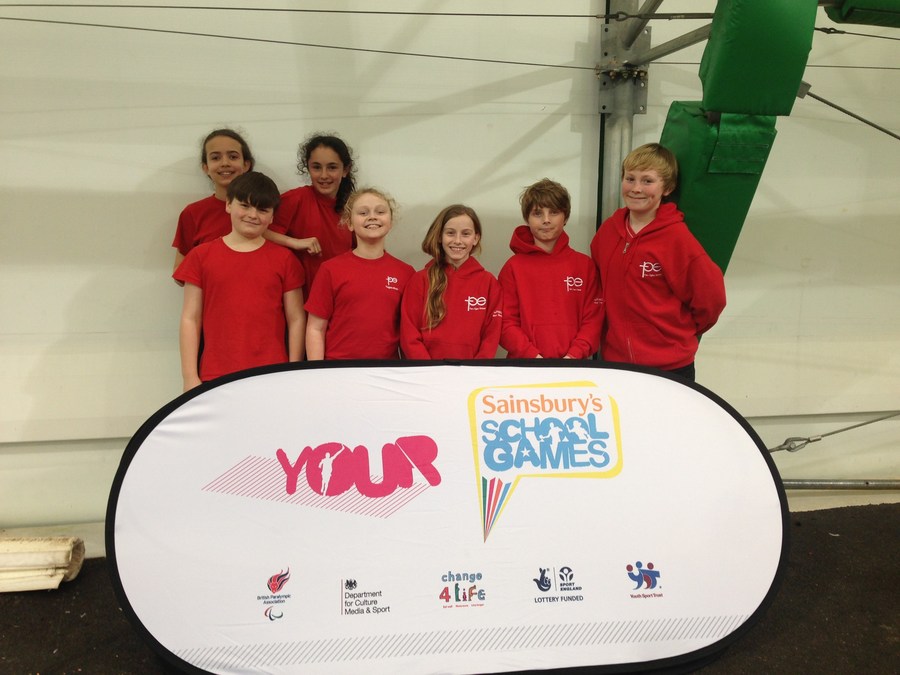 HIGH FIVE TOURNAMENT - 9TH FEBRUARY 2015
Well done to our High 5 team (pictured below) who won the tournament and have now qualified for the next round in the Cornwall School Games which will take place on 11 March.
REBECCA BENNEY - 4TH JANUARY 2015
Rebecca Benney in Year 6 ran at Cardiff Sports Stadium on Sunday 4th January representing Cornwall Athletics Club - see pictures below. Rebecca came third in the 1500 metres with a time of 6.05 minutes. This is a fantastic achievement and all at Parc Eglos are very proud of Rebecca and look forward to hearing about her future running success!
JOSHUA BOSENCE - JANUARY 2015
Firstly Joshua has won the Jenny Richard memorial cup for his riding achievement. He has also shown a great work ethic getting up early, and going to the stables every day of the holiday, except Christmas Day, helping care for not only his own pony but twelve others. In fact he has so impressed the owner of the stables, that she has offered to mentor him and as such he is attending a show jumping event with her, to be taught by a national show jumper. We are extremely proud of Josh, and the fact that he has also managed to work hard on his studies during the holiday, whilst also developing his talent for riding. Pictures below.
GYMNASTICS COMPETION - 10TH NOVEMBER 2014
Pictured below are the Year 5/6 children that took part in the gymnastic competition at Mullion. Kaitlyn, Amber, Izzi and Grace were in the winning team, returning to School with medals! Caitlin also won a medal for her routine. Well done to everyone who took part.
PLAYMAKER AWARD
We are very fortunate to be able to send four year 6 children on this leadership course. They will end learning how to set up and lead sporting activities and we are looking forward to them putting what they learn into practice when they return!